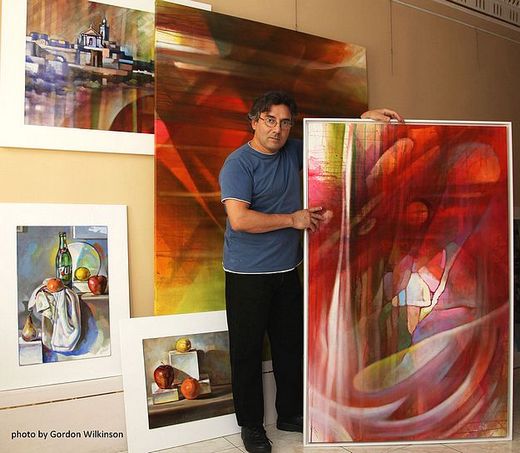 George Scicluna was born in 1966 in Victoria, Gozo. At the age of fifteen George won 2nd prize in a competition organised by UNESCO. He then studied art at the Salvatore Dimech School of Arts in Mosta where he obtained a diploma in Graphic Design.
He continued his studies at the School of Arts, Malta, whilst in Malta in 1981 he won First prize in a national school competition. Following that he was tutored by the renowned Gozitan artist Chev. Paul Camilleri Cauchi between 1985 and 1990, then he furthered his studies at the 'Accademia di Belle Arti' in Perugia, Italy. In the late 1980s he worked as a scenographer with the 'Impresa Fasano,' Rome, painting perspectives for several opera theatres in Italy.
In 1995 George won first prize in a National Youth Art competition and in 1996 he obtained first prize in a competition organised by the Brussels based Demo – Christian foundation Robert Schumann. He took part in numerous collective exhibitions and presented five solo exhibitions to date. In 2006, he was invited by Peter Howson, an internationally renowned Scottish artist, to make a joint exhibition in Glasgow, Scotland. George's work is to be found in many private collections locally and internationally.
In October 2015 George Scicluna participated with international artists in Art Expo Rome, Italy.
Visitors are welcome to come and view the artworks and meet the artist, please call 99173866/21563335.
Studio address: Casa Scicluna, Paul Portelli Street, Victoria, Gozo, Malta.